SEC staff recently reported on Reg CF's progress at the three-year mark. The document reveals interesting, though somewhat dated information on Reg CF. And it explores reforms issuers, portals, and industry professionals say must occur to make Reg CF explode. Companies need solutions to millstones the SEC acknowledges exist. The SEC has previously recognized these issues, but progress comes slow. Until it or Congress demands more, Reg CF will underperform. And blame must lie with those who can help most.
The report aimed to study Reg CF's "impact . . . on capital formation and investor protection." Although one may find more current information from sources like Crowdfund Capital Advisors and some portals.
Reg CF continues to gain traction
The report states, "The market exhibited growth over time: 292 offerings initiated during the first year, 557 during the second year, and approximately 502 during the first part of the third year (from May 16, 2018 through December 31, 2018) since the rules went into effect." This growth doesn't approach the established private exemptions but shows that Reg CF awareness is growing.
The numbers accord with other data sources regarding Reg CF's performance over time:
Of the offerings that were reported completed, the average offering sought a target amount of approximately $52,428 and a maximum amount of approximately $577,385 and raised approximately $208,300 per offering and approximately $107.9 million in the aggregate, which does not include investor commitments in ongoing offerings. The median amount reported raised was approximately $107,367. We estimate that 29 offerings reported raising at least $1.07 million from May 16, 2016 through December 31, 2018.
Thus, most issuers raising somewhere between $100-$200k with a few maxing out at just over a million.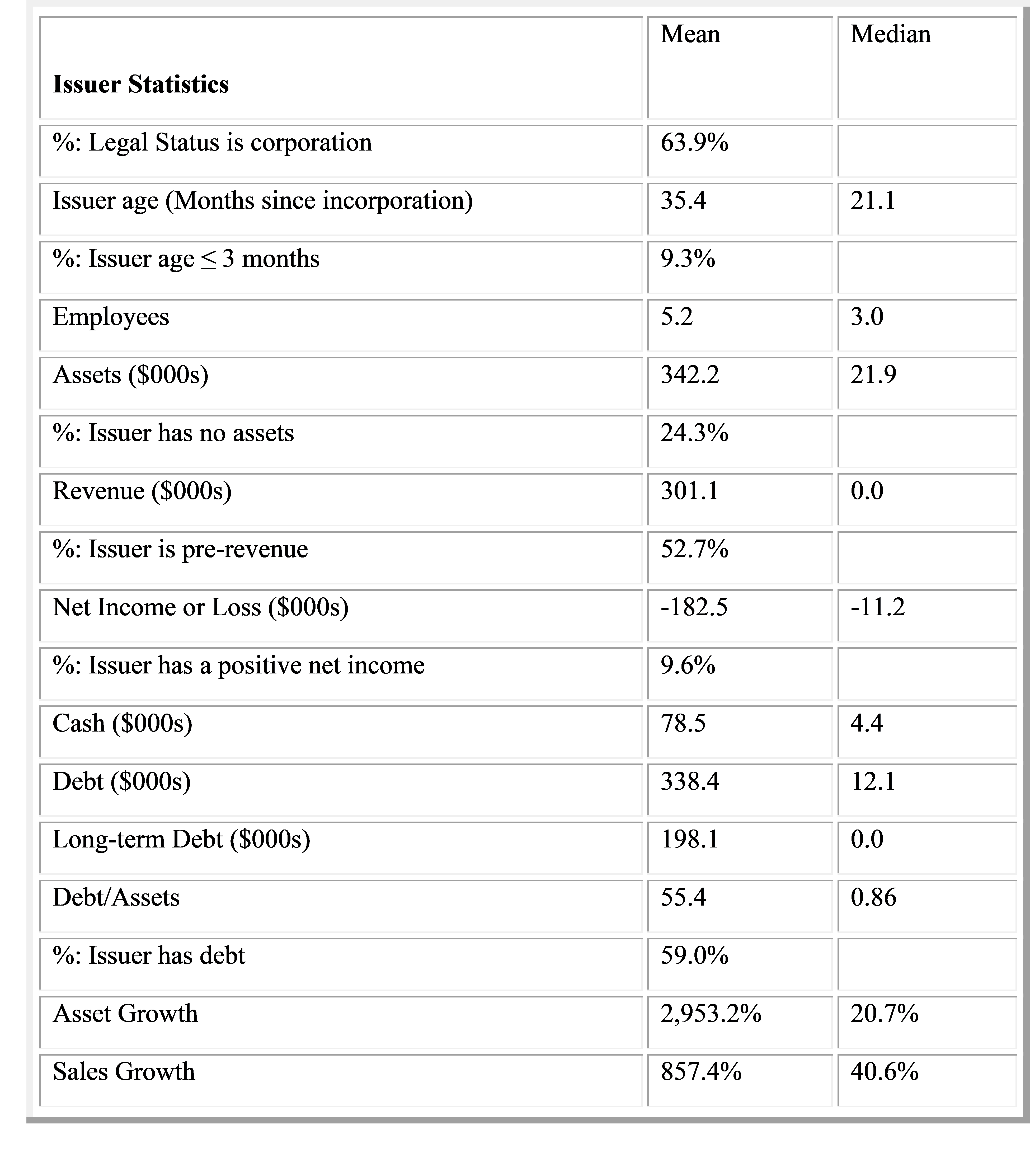 But these numbers show only part of the story. For example, it does not say how much "crowd" each issuer brought to the raise. And it fails to contrast that number with how many investors came through the portal list or marketing. See here, for a better breakdown of the components of a successful raise.
Reg CF's concentrated geography and upfront costs are hurting adoption 
The report provides other interesting information. For instance, most issuers offer either equity or warrants for future equity. Unfortunately, most issuers are concentrated in places adapted to decentralized fundraising like California, Texas, and New York. They spend varying amounts to get their raise started on disclosures, marketing, legal, accounting, video and copy.  
Commission staff emphasizes they cannot draw clear inferences because of limits in the data. First the timeline is short. But also, they rely mostly on backward looking surveys which can cloud the picture. Still, these graphs can guide companies considering equity crowdfunding.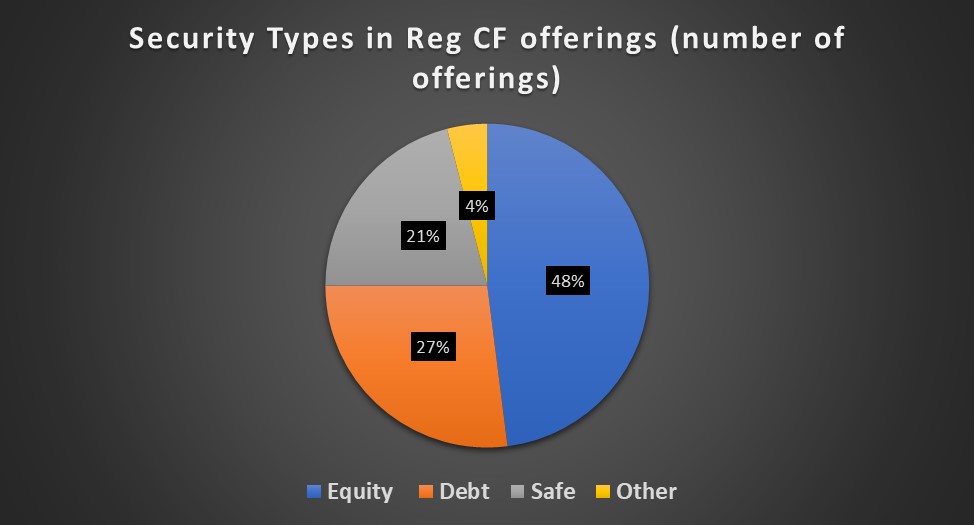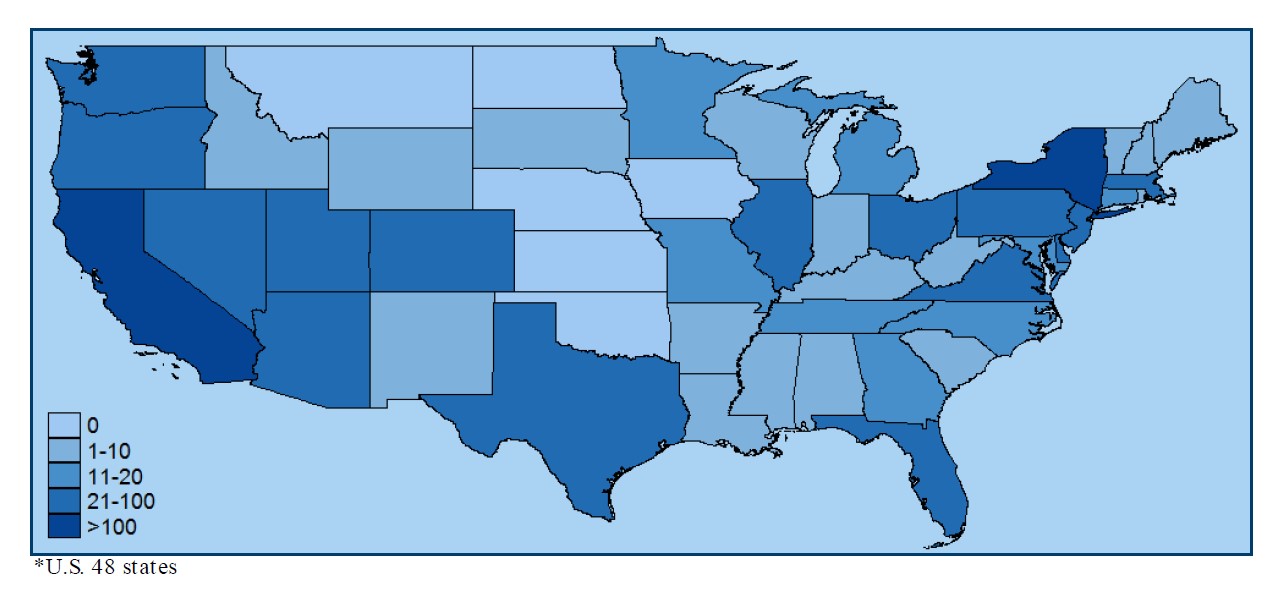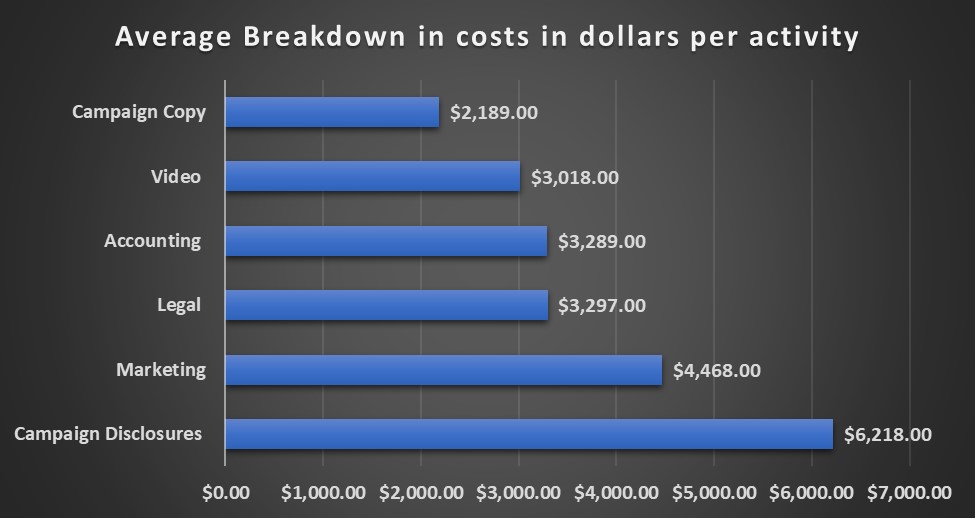 Reg CF Shortcomings are well known
To its credit the SEC reviews the many (many) criticisms of Reg CF's regulatory scheme. Undoubtedly, the Commission displayed hostility toward Reg CF from the start. It overemphasized investor protection at the expense of simplicity and clear rules. From the report:
 Some studies and market participants have expressed concern about the cost and complexity of relying on Regulation Crowdfunding. Market participants have stated that many issuers face significant challenges due to the time and cost required to comply with the regulations, including complying with U.S. GAAP financial statement requirements, obtaining a review report, and preparing a Form C, and that many new companies are not able to bear those costs given the uncertainty regarding whether they would raise capital successfully.
Reg CF fixes can happen at the Commission level 
These complaints predated Reg CF's actual start and persist today. Neither the Commission nor Congress in the recent JOBS Act 3.0 (stalled in the House since last Congress) has addressed these issues summarized below:
Raising Limits will help bring in sophisticated investors 
Raise the overall limit. It may seem paradoxical to raise a limit that few issuers reach but it's not. A CEO who knows the max won't fulfill his or her needs will skip the exemption outright despite its acknowledged benefits. Raising the limit to $10 million or more coalesces the interests of smaller and larger investors. It avoids the common scenario where a few big early investors get huge returns at the expense of the rest as with the recent Uber IPO. From the report: "Some of the intermediaries that recommended an increased offering limit stated their view that while few offerings reach the current limit, many issuers choose not to rely on the crowdfunding exemption because the limit is too low. According to some of these intermediaries, some issuers choose to raise funds needed in excess of the offering limit through a separate offering, which they consider to be a less optimal experience for investors and a more costly and potentially riskier approach for issuers."
Raise the individual limits. It makes no sense for accredited investors to have a Reg CF limit but not for Reg D. This forces issuers to "stack" and begets better terms for accrediteds. While some limits are probably necessary for unsophisticated investors, the Commission should reevaluate the formulas to consider knowledge rather than solely income or net worth. From the report: "The 2018 Small Business Forum stated that removing the individual accredited investor limits would make crowdfunding offerings more attractive to accredited investors and make it easier for offerings to reach their maximum offering goals."
Relaxing onerous requirements will ease regulatory burdens 
Relax the accounting requirements: The graduated accounting scrutiny makes little sense for smaller issuers. Given that many raises won't top $200k, a full audit or even a CPA report imposes undue burdens, especially under GAAP. Allowing CEOs to sign off on financial records would likely have the same effect from the investor standpoint. From the report: "[T]he 2017 and 2018 Small Business Forums recommended easing the requirements for smaller and debt-only crowdfunding offerings under $250,000, including limiting the ongoing reporting obligations to actual noteholders (not to the general public); and scaling regulation to reduce relatively inelastic accounting, legal and other costs."
Relax the solicitation rules: The publicity rules are anathema to successful crowdfund raises in other formats. The inability to promote a raise beforehand and the marketing rules once live don't achieve their investor-protection objective because investors invest through portals that make them acknowledge the risks. Thus, the report states: "Most recently, the 2018 Small Business Forum recommended loosening the advertising restrictions to allow issuers to market their projects more effectively, suggesting that the rules are difficult for issuers to understand and "run counter to the intent of the law: to promote the democratization of investing."
Including risk reduction will spur investment 
Allow Special Purpose Vehicles: SPVs can align the incentives of many investors, reduce cap table issues, and provide unsophisticated investors guidance and risk reduction. Thus, from the report: "Market participants cited other potential investor protections an SPV structure could provide, such as allowing small investors to invest alongside a sophisticated lead investor who may negotiate better terms, protect against dilution by negotiating during subsequent financings, mentor the company, and represent smaller investors on the board."
Reg CF won't reach its potential without Commission leadership 
Reg CF is growing despite known flaws in the regulatory scheme. A decentralized and larger investor class has obvious benefits for all. But the SEC imposed many of these burdens in its rule-making process. Thus, it could fix them without further Congressional action. Unfortunately, its track-record with other new investment vehicles like token sales doesn't bode well. Still if Chairman "Shallow-End" Jay Clayton wishes to spread wealth and investment opportunities beyond the country's financial centers, fixing Reg CF would be a fine start.