Crowdfunded startups received a major boost when the Securities and Exchange Commission (SEC) voted on proposals earlier this week to tweak Regulation Crowdfunding (Reg CF or equity crowdfunding). Reg CF allows entrepreneurs and small businesses to seek investment from the 'crowd,' greatly expanding their potential-investor pool.
The changes join a larger Commission effort to simplify the private-exemption rules and expand capital access for growing ventures. As SEC Chair Jay Clayton stated, "For many small and medium-sized business, our exempt offering framework is the only viable channel for raising capital. . . . The staff has identified various costly and unnecessary frictions and uncertainties and crafted amendments that address . . . inefficiencies in the context of a more rational framework that will facilitate capital formation for small and medium-sized businesses and benefit investors for years to come."
The Commission was particularly attentive to impediments crowdfunded startups faced. Through Commission-requested comments, industry participants detailed myriad regulatory hurdles startups and small businesses face when using this exemption. These included low aggregate offering limits, discordant and confusing individual investor limits, restrictive solicitation rules, and capitalization table issues.
SEC modifies rules to help crowdfunded startups
The SEC listened and changed rules that were impeding Reg CF growth. Among the beneficial changes:
Raising the aggregate offer limit from $1.07M to $5M.

As Crowdfund Capital Advisors, which curates equity crowdfunding data stated about this change: "At $5 million, a tech startup can raise a seed round or a traditional small or mid-sized company can raise expansion capital.  This will open significant new opportunities for businesses to use this capital to recover from the current economic crisis or launch innovative new products and services."

Removing individual investor limits for accredited investors.

This rule had perplexed many industry participants. Its removal now aligns Reg CF with the more established Reg D and Reg A+ exemptions, where accredited investors faced no such limits.

Allowing potential issuers to gauge interest in a raise ("test the water") before filing.

This change is especially helpful for less experienced entrepreneurs unaccustomed to securities law's confusing array of rules on what they can say and when (and the policy reasons behind them).

Allowing Special Purpose Vehicles (SPVs) to cabin all Reg CF investors into one legal "bucket."

The call for SPVs has been perhaps the most persistent complaint from industry participants about Reg CF. Although questions remain about how this rule will function in practice, ideally it will solve the "messy cap table" issue frowned on by later investors.

Extend relief from financial-statement requirements for issuers seeking under $250k.

Although separate from the Commission's summer 2019 initiative, the commissioners voted to extend for 18 months a temporary exemption from Reg CF's financial statement-review requirements for issuers offering less than $250k in securities.
In surprise move, SEC allows crowdfunded startups to keep using SAFEs
A final surprising and welcome development is the Commission voted not to restrict security type as it had proposed. The Commission had previously expressed concern about certain financial instruments such as Simple Agreements for Future Equity (SAFE). Also scheduled for elimination were other nontraditional but helpful instruments like revenue shares and token-based structures. The Commission deserves credit for resisting its regulatory urge. These innovative structures that lacked any evidence investors were unhappy or confused by them. 
Reg CF was already growing, new rules could see explosive growth
Despite the now-cured impediments and after a slow start, Reg CF had already found its footing. Aided in part by the ease of investing online during the pandemic, Reg CF has set multiple records this year. This includes its best month ever in October ($32 million committed investments). According to Crowdfund Capital Advisors, the past six months have seen a 300% increase in investor commitments.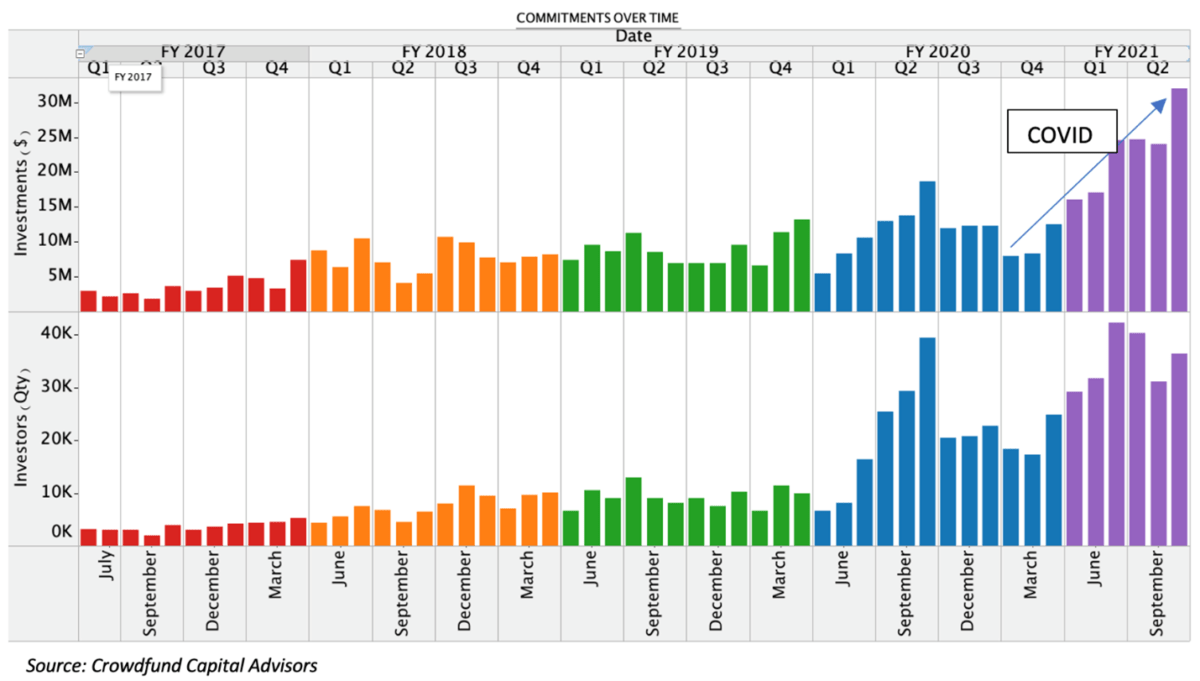 Moreover, the number of offerings year-to-year has continued growing as more businesses incorporate equity crowdfunding into their capital-raising plans.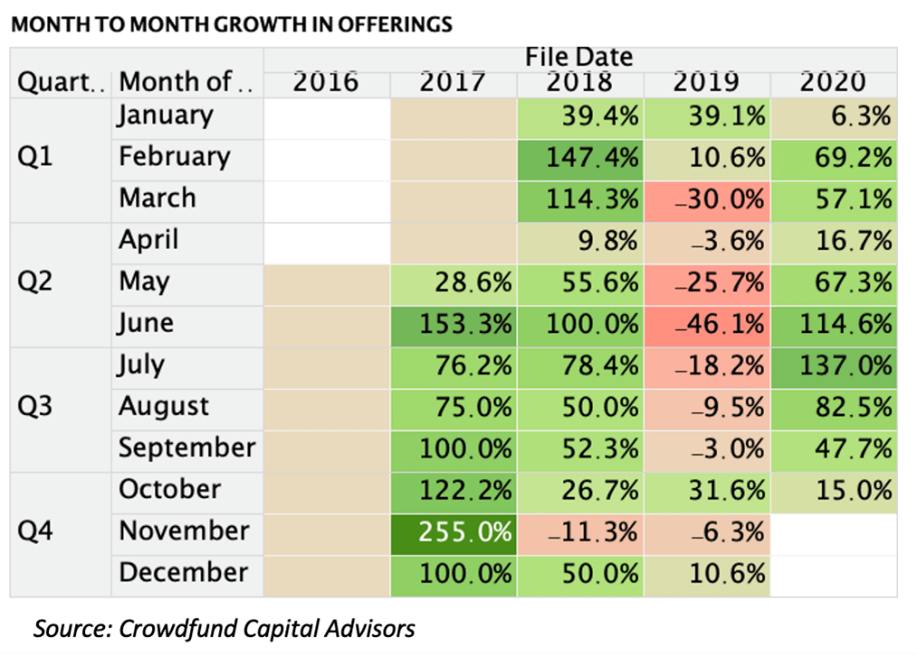 Crowdfunded startups could soon become the norm
Equity crowdfunding is set for explosive growth in the years ahead. The new rules will boost Reg CF's already impressive momentum as more businesses and investors learn about and use this innovative tool.
The new rules will be effective 60 days after publication in the Federal Register. This doesn't include the extension of the temporary Regulation Crowdfunding provisions. These will be effective upon publication in the Federal Register.
By Jossey PLLC via www.thecrowdfundinglawyers.com