SEC boosts Reg CF limits for inflation, must do more 
The Securities and Exchange Commission (SEC) adjusted for inflation some limits for companies (issuers) raising capital through Regulation Crowdfunding (Reg CF). The adjustment raises the maximum nonaccredited individuals can invest in Reg CF offerings along with the amount issuers can offer without audits. Per the JOBS Act of 2012 which created what became Reg CF, the commission must adjust these limits for inflation "at least once" every five years.
The last time the SEC adjusted the limits was 2017. This raised the offer limit from the original $1M to $1.07M. The commission justifies its foot-dragging by referencing its November 2020 vote in the private-market review known as Facilitating Capital Formation and Expanding Investment Opportunities by Improving Access to Capital in Private Markets.
This review did greatly benefit Reg CF issuers by among other improvements raising the offer limit from 1.07M to $5M, removing individual limit for accredited investors, and modifying the formula for nonaccredited investors to increase their limits.
SEC boosts Reg CF limits for inflation from $1.07M to $1.235M
But the new rules did not expand the audit "freebie" to the new offer limit. The original JOBS Act required an audit any issuer offering over $500,000. This decree was unworkable. The SEC wisely listened to commenters and waived the requirement for an issuer's offer to the maximum $1.07M requiring instead only CPA-reviewed financial statements. The difference between these two is around $1,500-$2,500 for the review and $20,000 or more for the audit.
The November 2020 rules kept the audit "freebie" at the old $1.07M offer limit, issuers offering more needed an audit. This creates a dilemma for Reg CF issuers: pay for an audit to offer the full $5M or stay at $1.07M for the financial-statement review. Many issuers choose to remain at the lower level. This is unsurprising given an audit is cost prohibitive to most Reg CF issuers. A 2019 SEC report found the median Reg CF issuer had incorporated two years prior, had three employees, total assets of $30,000, cash on hand of $4,000 and no revenue (roughly half lacked revenue). With the recent inflation adjustment issuers can now offer $1.235M without an audit.
SEC should boost Reg CF for inflation again next year
The SEC should eliminate this dichotomy all together and allow all issuers to offer the maximum amount without an audit. Given the stage in their life cycle and the uncertainty in how popular their raise will be nearly all issuers would fail to reach $5M anyway. But short of that it should adjust for inflation again next year. Another adjustment may raise the offer limit without an audit to perhaps $1.5M which would be a 50% increase from the original 2016 version.
Regulation Crowdfunding is working. It has been a colossal success in providing early-stage capital to businesses who would not have gotten it. During the pandemic it set multiple records as investors shifted toward online investing including crossing the $1B mark in total investment.
It has become an essential part of many companies' capital raising strategies even when they have other options because of ancillary benefits in aligning customer and company economic interests and incentives. And it has dispersed capital more evenly throughout the United States instead of being confined to a few elite zip codes. In fact, Year-over-Year growth in Reg CF reveal the top states as Arizona, Utah, New Jersey, Minnesota, Georgia, and Vermont, well beyond the usual coastal money hubs.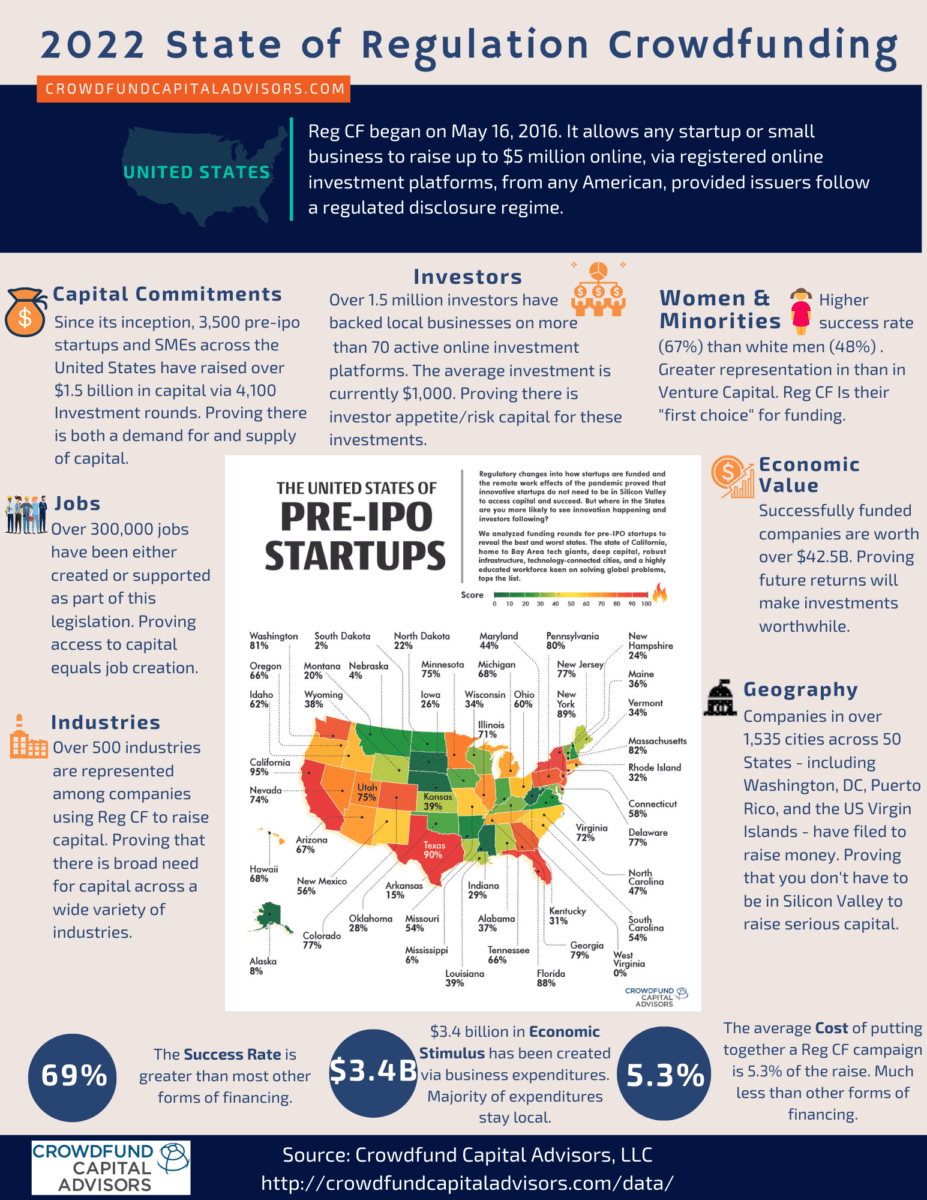 As fears of a recession grow, entrepreneurs will likely to turn to their most ardent supporters for capital including existing customers, friends, family, and current investors. The SEC should help these job creators by revisiting the inflation adjustments again next year.
By Jossey PLLC
This article originally appeared on the blog of the Competitive Enterprise Institute on September 27, 2022, https://cei.org/blog/sec-gives-crowdfunders-inflation-relief-must-do-more/