Reg CF Explosive Growth Continues 
The numbers are in, and Regulation Crowdfunding (Reg CF) has had yet another blockbuster quarter, setting records across the board. According to Crowdfund Capital Advisors, which curates Reg CF data, year-over-year offerings are up 22%, investments up 93%, and investors up 22.3%.
The numbers continue Reg CF's impressive climb up the private-investment chart. The exemption has now accounted for over one billion in commitments, by over one-million investors, through over four-thousand offerings. The average raise has climbed to $376, 939. The numbers remain tiny compared to behemoth Reg D, which accounts for over $1 trillion each year and outpaces the public markets. Yet Reg CF's continued growth shows a fervent wish by startups to share their ideas and potential growth with retail investors and those investors' desire to invest pre-IPO.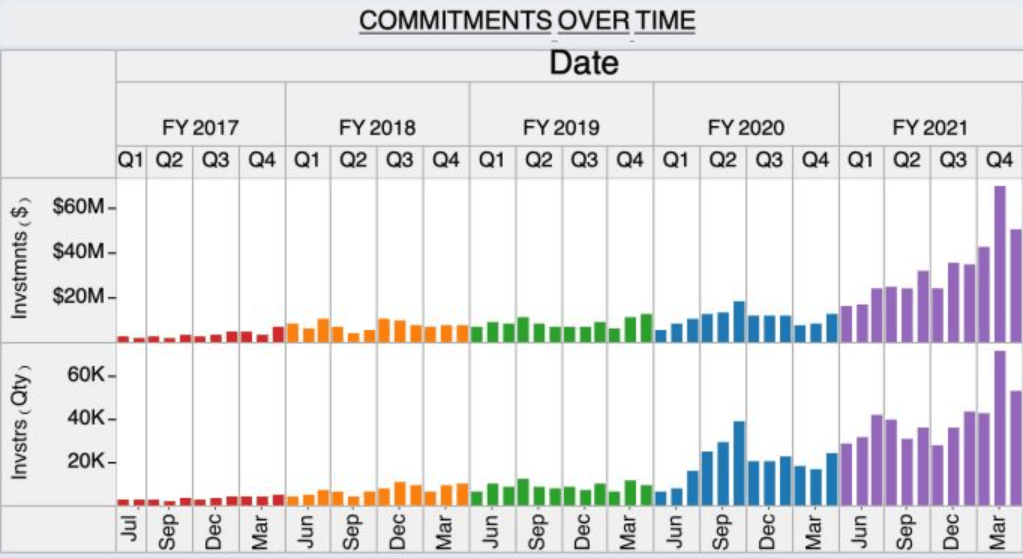 The reasons for Reg CF's explosive growth are varied
First is awareness. The exemption is the newest private-investment vehicle available in the US. Congress created it as part of the JOBS Act of 2012. The SEC did not finalize the regulations until 2016. After a slow start, the idea of ordinary people investing in early-stage companies has bloomed. This is true especially outside the traditional startup hotspots.
Second are SEC-implemented improvements. In a 2019 Concept Release, the SEC invited comment on ways to improve and streamline the various private exemptions, including JOBS Act provisions.
Public comment poured in, and the Commission listened. In November 2020 the Commission approved various changes to the private exemptions. For Reg CF this meant: (i.) greater issuer freedom to communicate with potential investors; (ii.) higher investor limits; (iii.) higher issuer offer limits; and (iv.) the availability of special purpose vehicles to place all Reg CF investors in one legal bucket and clean up cap table issues.
Third, the global pandemic forced companies and investors to rethink capital strategies. Limits on in-person meetings meant people looked online for investment. This fit perfectly with Reg CF's investment-through-portal structure. As the CEO of SeedInvest, one of the biggest equity crowdfunding portals, explained earlier this year:
Unlike venture capital firms, online fundraising platforms are perfectly situated to help startups in the current, post-COVID-19 world we are in. Online fundraising platforms are not dependent on capital from a handful of pensions and endowments, but rather a large, diverse network of investors . . . Additionally, while the traditional venture capital investment process is highly dependent on in-person meetings (which is next to impossible in the current environment), the online fundraising and investing process is inherently digitally native.
Reg CF legal representation is more important than ever
Reg CF's explosive growth will bring more SEC scrutiny, showing the need for legal representation. Although Reg CF has been essentially fraud free, the SEC brought its first enforcement action last month. This signals a growing interest by the Commission's Enforcement Division in Reg CF offerings. Given this reality, it's imperative Reg CF issuers have legal counsel guide them through the process. Those that do not are rolling the dice.
Reg CF will continue to change the startup-capital narrative. Although barely five years old, this exemption may prove the Reg D slayer as awareness grows, successes proliferate, and investor returns pour in.
By Jossey PLLC