Reg CF Q1 numbers hold steady despite economic turmoil
The New Year has seen bank failures, stubborn inflation, rising interest rates, and pullback from venture capitalists. But financial positions worsen, equity crowdfunding (Reg CF) keeps rising as a preferred capital-raising method for early-stage companies. Although, down somewhat from the COVID boom, Reg CF issuers continue to raise at a healthy clip despite growing economic caution.
Reg CF Q1 numbers continue to show promise
In every economic measure Reg CF issuers enjoyed a steady first quarter to 2023. Crowdfund Capital Advisors (CCA), which curates Reg CF data reports:
[T]he number of issuers coming online was up 0.3% over the prior year and down 1.3% over the prior quarter. 91 issuers ran a follow-on round. Down 9.1% over the prior year but up 16.9% over the prior quarter.
Q1 saw the lowest capital committed since Q4 2020. It was off 15.4% over the prior year and 7.1% over the prior quarter.
The number of checks written was up 32.6% over the prior quarter but down 26% over the prior year. Average check size grew 16.5% over the prior year to $1,688 but fell 29.8% over the prior quarter.
Quarterly median valuations hit an all-time high of $14M. For pre-revenue issuers, median valuations hit a quarterly high of $13.2M, but post-revenue issuers saw a decline to $14M from a high of $15.1M in Q3 2022.
Quarterly funded deals remain high with 290 successful deals in Q1.
The healthy numbers come despite the big money pullback embodied by the Silicon Valley Bank collapse, perhaps the largest bank for venture capitalists. This may bode well for Reg CF according to CCA's Sherwood Neiss, "This will be the first true test of the industry's ability to substitute the role of Venture. While the need for Venture Capital will never disappear, a void has been created in the marketplace . . . Now we will see if, in fact, a startup's community can play the role of VC."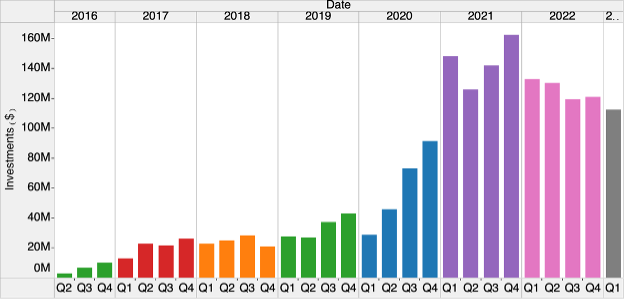 Reg CF Q1 numbers foreshadow longer term and global trends
Over the next few years, crowdfunding will keep trending up. According to Fortune Business Insights, the global crowdfunding market currently valued at $1.41 billion in 2023 and will more than double by 2030 to $3.62 billion.
Why?
A Microventures blog cites the COVID pandemic and Gen Z preferences:
[T]he COVID-19 pandemic helped accelerate the adoption of crowdfunding as a fundraising method, as $214.9M was raised via equity crowdfunding in 2020, representing growth of 105% from 2019. With many businesses struggling to access capital during the pandemic, crowdfunding platforms emerged as a valuable source of funding, helping companies to quickly and efficiently raise the capital they needed. . . .
This shift towards crowdfunding can also be attributed to the changing investor landscape. Younger generations, such as millennials and Gen Z, have shown a greater interest in impact investing, and are more likely to invest in companies that align with their values and beliefs. Crowdfunding provides an opportunity for these investors to support companies that are making a positive impact, and to have a voice in the companies they invest in.
Reg CF has other other benefits
Broaden your investor base: Unlike other funding models, Reg CF can diversify your investor base from both a financial and geographical standpoint. Portals can accept investors from anywhere in the US, giving your business a potential foothold in all 50 states.
Turn your customers into marketers: Reg CF allows your customers to become financially invested in your business and see their investment grow as your business grows. This provides a free marketing campaign for your business with every new investor.
Incentivize your investors: Reg CF allows you to provide perks as part of the investment. Depending on the product this could include the product itself, 'founder' status on your website, access to events, or anything else that may induce an investment.
Prove value to institutional investors: A successful Reg CF raise can show larger, institutional investors your business is ready for the big money. Many larger investors are now requiring "social proof" of a company's business model. Your business can show larger investors value and momentum and provide your business "bridge money" while larger investors evaluate your model.
By Jossey PLLC
Schedule a free 30-minute consultation with my firm here: https://www.thecrowdfundinglawyers.com/cfl-scheduler/