What is Equity Crowdfunding?
The SEC finalized equity crowdfunding (Reg CF) regulations in May 2016. This innovative new law allows small businesses, entrepreneurs, and startups to raise capital through equity or debt sales to the "crowd" just as a public company could.
Reg CF Basics:
Any business can raise up to $1.07M over a 12-month period and can set a minimum and maximum range

Businesses sell their financial instruments over a FINRA-approved portal

Investors are subject to limits based on income and net worth, and usually must hold the investment for one year

Businesses are required to track financial instruments and file a year-end report with the SEC
Any successful equity crowdfund has three components: Legal, Accounting, and Marketing. A successful raise will usually require around $20K upfront and will be subject to portal fees after a successful raise.
Equity Crowdfunding so far
As of August 14, 2017, businesses have raised $53,353,149 through equity crowdfunding.
Credit: Crowdfund Capital Advisors
Almost 400 businesses have participated through 29 active portals. Businesses from a variety of sectors have utilized Reg CF with food and beverage, entertainment, sports, and transportation leading the way: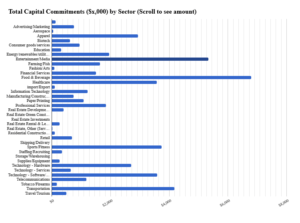 Credit: Crowdfund Capital Advisors
Certain portals have begun to separate themselves but it is very fluid and some outperform depending on the type of business.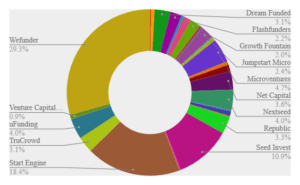 Credit: Crowdfund Capital Advisors
Future Fixes:
Congress and the financial media have discussed several 'fixes' to make equity crowdfunding more dynamic, including the Reg CF provisions of the Financial CHOICE Act. While no guarantee any fixes will happen, many in Congress recognize the need for improvement. Some of the most discussed modifications are:
Raising the annual raise limit to $5M or $10M

Removing investment limits for accredited investors

Removing or lessening the accounting burden

Removing or lessening the solicitation rules
What Equity Crowdfunding can do for your business
Besides capital to help your business grow, Reg CF provides other benefits unique to this model.
Broaden your investor base: Unlike other funding models, Reg CF can diversify your investor base from both a financial and geographical standpoint. Portals can accept investors from anywhere in the US, giving your business a potential foothold in all 50 states.
Turn your customers into marketers: Reg CF allows your customers to become financially invested in your business and see their investment grow as your business grows. This provides a free marketing campaign for your business with every new investor.
Incentivize your investors: Reg CF allows you to give out perks as part of the investment. Depending on the product this could include the product itself, 'founder' status on your website, access to events, or anything else that may induce an investment.
Prove value to institutional investors: A successful Reg CF raise can show larger, institutional investors your business is ready for the big money. Many larger investors are now requiring "social proof" of a company's business model. Your business can show larger investors value and momentum and provide your business "bridge money" while larger investors evaluate your model.
How Jossey PLLC can help capitalize your business
Pre-Sale:
Handle all disclosures and regulatory compliance with the SEC. This includes your Form C, and any other legal issues

Research the best portal for your product, make recommendation based on the best fit for your product

Recommend a particular financial instrument and tailor the contract to fit your needs

Review contracts, negotiate with vendors, recommend accountant and marketer
Live Selling:
Free advertising and profile on my blog thecrowdfundinglawyers.com (approximately 2,000 unique visitors/month)

On call for any legal, regulatory, compliance question you have usually get back with an answer in less than 24 hours.
Post Raise (additional monthly fee):
Act as general counsel for your business. Answer any legal, regulatory, or compliance question that may arise. Review contracts, negotiate with vendors, and give general advice on employment and other business issues.

Track your instruments: track any change of ownership throughout the year as required by SEC regulations.

End of year report: Handle your year-end report as required by SEC regulations.
Disclaimer
This document is for informational purposes only. It does not represent a contract, offer, or any legal obligation on the part of Jossey PLLC. Many factors go into a successful raise including appeal of the product, competition for the product, the quality of the marketing, operating history of the company, experience of management, and ability to self-generate crowd investors. Legal and regulatory compliance is only one part. Investing in small companies and startups carries lots of risk, there is no guarantee your business will have a successful raise.
Jossey PLLC
(202) 779-5768
While other entertainment sectors like music and cable television have seen paradigmatic disruptions in the past 15 years, Hollywood has thus far proven immune. That's about to change. Equity crowdfunding and blockchain distribution may be about to turn Tinseltown upside down.
Currently the movie business operates in an esoteric netherworld, full of middlemen, secret contracts, and mafia-like protection rackets. Major studio heads and a few A-list actors gain fortune and fame and everyone else ekes out a living even while working on summer blockbusters. Hollywood's financial structure is murkier than the latest spy-thriller. According to opaque industry accounting, even runaway hits like The Hobbit trilogy lose money.
How are movie dollars made? According to reports, major studios generate their bulk revenue from licensing deals with broadcast networks, all of which are owned by the studio's corporate conglomerates. This makes it nearly impossible for outsiders lacking massive archives to break through without a steady stream of hits.
Rewards crowdfunding platforms like Kickstarter and Indiegogo tried to breach the Hollywood fortress but Tiseltown gatekeepers repelled them. Enticing the crowd with DVDs and other goodies preproduction distracts talent, robs films of commercial value, and degrades marketing and licensing opportunities.   
Enter equity crowdfunding. Reg CF—now a year old—allows moviegoers to become equity partners in films and share in their potential success. Instead of a DVD, Reg CF investors get ownership. Perquisites are still available and producers can offer large investors roles as extras, access to exclusive parties with the actors, or behind-the-scenes looks at production. 
Producer's not only get their projects partially funded through crowdfunding but also get a readymade marketing operation. The potential for financial payout incentivizes Reg CF investors to work for the film's success. This cast of potentially hundreds or thousands of acolytes gleefully spreads the word on social media and their other networks, building grassroots excitement for a movie premier. Traditional advertising can't buy this type of organic hype.  
Two movies crowdfunded on Mircoventures/Indiegogo portals have been early adopters. Animated film 'Bunny Bravo' has raised almost $150K towards its goal of 200K to cover distribution and marketing.  'Field Guide to Evil' successfully completed a $500K offering earlier this year.
Entertainment is one of the leading sectors of the nascent equity crowdfunding movement.  According to Crowdfund Capital Advisors, entertainment ventures have received almost $3.5M in funding thus far. 
Further down the road, blockchain technology may give Hollywood another shock. This new concept aims to excise everyone but the 'creatives' from filmmaking. Through decentralized online distribution, cryptocurrency, 'smart' contracts, and IP ownership, blockchain may signal an alternative way to make movies.
Nick Ayton of The 21 Million Project is producing a film/tv series using this concept. He claims he can cut a film budget by a factor of 5 or 6 through blockchain, thereby making a $30 million film for a $5 million. The 21 Million Project has committed 80% of profits to holders of 21MCoin, the online security financing the film. These crowd investors will receive film royalties in perpetuity.
It remains to be seen if blockchain becomes the new standard and if so how long it will take, but what is certain is crowdfunding is here to stay and everyone that doesn't adapt, even Hollywood fat cats, will be left behind. 
By Jossey PLLC
The SEC recently warned equity crowdfunding investors about a popular Reg CF security called a 'SAFE'—Simple Agreement for Future Equity. The Commission is concerned investors purchasing SAFEs may be unaware of their risks and should be cautious of this "exotic" Silicon Valley security.
Although SAFEs have drawbacks for early investors, if done with favorable terms they provide potentially big returns while giving early stage companies freedom to manage initial growth without the burdens associated with traditional securities. Investors should always weigh risks and understand their investments but SAFEs are not inherently unsafe, they can benefit both startups and early investors.  
SAFE's are a product of Y Combinator, rated by Forbes the most successful startup incubator. Its companies have a combined valuation of $8 billion and include well-known names like Reddit and Airbnb. SAFEs were born as an alternative to the convertible notes Silicon Valley startups provided early investors, which featured sometimes-burdensome interest rates and maturity dates.
As the SEC notes, SAFEs are not equity or debt, like a warrant they promise future equity if the company reaches certain benchmarks or triggering events. These could include future funding rounds, acquisition, or IPO. A SAFE in essence rewards early investors willing take bigger risks with larger returns if the company progresses as forecast.
This promise, however, comes with drawbacks on the investor side. Investors don't get immediate ownership as they would with common stock. They have no voting rights and, there may be buyout clauses, or repurchase rights that could lessen the SAFE's appeal. They are not debt so accrue no interest and, of course, they may never convert if the triggering event doesn't happen.
But the factors that work against SAFEs investors have reciprocal benefits for young companies. They provide capital to entrepreneurs without strings that stifle flexibility and innovation in the early stages and allow the company to adapt to market conditions. The security documents are relatively simple meaning less time for tedious negotiations over details germane to bigger financing rounds. And the lack of voting rights or maturity dates allows entrepreneurs flexibility to grow without the burden of multiple owners or the threat of looming debt payments.
Should Reg CF investors invest in SAFEs?
Many companies considering equity crowdfunding fit the SAFE model. They are early stage ventures with limitless potential but need quick, simple financing to implement next-level growth or reach benchmarks that trigger future funding. As with any investment, the terms are paramount. Does the SAFE come with a generous valuation cap or discount rate that adequately rewards early investors taking bigger risks and granting more autonomy? These details inform whether a particular SAFE is worth the risk.
Companies offering SAFEs on Reg CF should realize these bigger investor risks and provide perks and very favorable terms with market caps and discount rates. They should also realize they are competing against other SAFEs and instruments that give investors more upfront security.
But generally SAFEs are not unsafe, they require a bigger risk upfront for a heftier reward later on.
This post is not legal or financial advice. Investors should consult a lawyer before purchasing any financial instrument through Reg CF.
By Jossey PLLC