Unlike the Environmental Protection Agency, the Securities and Exchange Commission lacks a paramilitary force. But one recent article says it's nonetheless preparing for war. The SEC's enemy is initial coin offerings (ICOs), a capital raising tool popular with "fintech" companies immersed in blockchain.
In a 10,000-word tome, consultant John Stark, a 20-year veteran of the SEC's enforcement division, outlined the Commission's battle plan. The opus included a myriad of violent and marital imagery. "Sweeps" appears eight times, along with "counteroffensives,"  "well-stocked statutory armory," "onslaught,"  "dragnet," and "blood on the floor." One wonders if Mr. Stark is discussing a government agency or the Viet Cong.
Joining the SEC in this bloody coalition are various federal, state, and even international bodies ready to fix bayonets and charge (!) for the glory of investor protection.
Assuming Mr. Stark knows his subject, the SEC's mobilization raising interesting questions about the role federal regulators should play at the dawn of the third internet. The agency like so much of the administrative state arose via the government-induced-and-exacerbated Great Depression.
How much should the SEC keep people from themselves and their foolhardy choices? To Mr. Stark this answer is manifest given that in the early 2000s "many investors also lost their life savings by buying into IPOs of companies encompassing little more than a sales pitch with the word "Internet" in the description." Assuming this is true, those IPOs came with massive SEC-enforced disclosure. In America shouldn't someone be able to risk their entire life savings on an investment that could bring gargantuan wealth? The wisdom of such risks should probably be the domain of adults smart enough to attain a life savings in the first place.
Of course, some ICO's have not given potential investors all the available information and others have outright lied. The SEC recently charged a Brooklyn conman after allegedly lying about material facts on two ICOs. Thus far, the agency has focused on these situations.
But to Mr. Stark and many others this isn't enough. The government should protect investors from fully disclosed and vetted opportunities. This common bureaucratic view though has a price.
As John H. Cochrane, Senior Fellow of the Stanford Institute for Economic Policy Research states:
Financial regulations are often enacted with little concrete definition, to say nothing of quantification, of their costs and benefits. Regulators and economists have little understanding of causal mechanisms that may provide benefits and incur costs. Worse, they often think they know cause and effect, either wrongly or with far more precision than they actually do, and enact regulation on the basis of unverified cause-and-effect speculation. Agencies and regulations often work at cross-purposes, one promoting what the other tries to reduce—lending to poorer and riskier borrowers, for example. Regulations stay in place long after everyone sees they are not working or are counterproductive. Regulators layer on additional rules to combat the consequences of the last round, which have their own adverse consequences. 
More than ignoring the consequences of its actions, the SEC's silence towards those trying to create SEC-compliant ICOs has worsened the situation. The agency stonewalled until July when it retroactively declared the failed DAO ICO a security and thus subject to its jurisdiction. Observers have since been forced to read into Commissioner statements for guidance.  
Staff-level guidance fares no better. One seasoned securities attorney describes his recent experience:
One inquiring ICO issuer was, essentially, referred by the SEC Staff to the Howey test and told to consult further with his securities counsel.
My own recent experience, as a seasoned securities lawyer on behalf of an ICO issuer of utility tokens, did not fare much better. Yes, I prepared a detailed written analysis of my client's "facts and circumstances," and dutifully directed it to the SEC Staff at FinTech@sec.gov.  The Staffer who eventually responded to my inquiry was thoroughly knowledgeable. Yet in the end, he was unwilling to get into "facts and circumstances," instead directing me to the same case law which I had already reviewed.
This puts everyone in the stance of wondering if they will be on the business end of SEC artillery. One lawyer recently described being in the SEC's crosshairs "like living in hell without dying."
So to recap: Commissioners give off-cuff warnings when publicly asked, staff won't say anything that could be construed as helpful and insiders direly warn of forthcoming bombardments and "sweeps." The only people who benefit here are consultants, presumably with personal relationships on the SEC's enforcement staff, who are available at the right price for "guidance."
But this does little for innovators and lawyers begging for road maps to keep clients from becoming collateral damage instead of participants in a technological explosion about to reinvent 21st-century life.  
Bitcoin, the basis for ICO, is not going away. It will continue to integrate into our everyday financial transactions and everyday activities. As it does, ICO will continue attracting companies involved in blockchain technology. Congress and the SEC should provide a path for SEC-compliant ICOs that will benefit the American economy and mankind.
Congress should direct the SEC to implement the following fixes for ICO companies seeking compliance:
The SEC should integrate ICO with Reg A+ and make clear Reg A+-compliant ICOs face no other regulatory barrier. This includes waiving onerous state-level hurdles as the Treasury recommended in a recent report: "Although federal securities laws do not impose trading restrictions on [Reg A+] Tier 2 securities, state "blue sky"  laws  may  impose  registration  requirements . . . state  securities regulators [should] promptly update their regulations to exempt secondary trading of Tier 2 securities or,  alternatively,  the  SEC  use  its  authority  to  preempt  state  registration  requirements  for  such transactions."

Raise the limit on Reg A+ Tier 2 to $100 million from $50 million over a 12-month period. This ensures ICOs can get the capital it needs while enduring a public qualification process.

Reduce post raise reporting to annual instead of semi-annual. The ICO company must still report major changes but it can reduce accounting and legal fees. Given the liquidity Reg A+ provides market signals will provide investors needed information.

Streamline broker dealer rules to allow finders and promoters to operate without fear of SEC enforcement. A "broker-dealer lite" could enhance visibility for new ICOs and speed secondary-market maturity.
These quick, pain-free fixes could ensure a smooth transition to fully SEC-compliant ICOs. US companies can continue to innovate in ways that improve all our lots. And only scam artists and cheats are 'sent to hell without dying.'  
In 10,000 words Mr. Stark dedicates one-half sentence to not stifling technological innovation. If his attitude is indicative of the SEC's enforcement division and Congress discards its overseer role, technological advances will capitalize in Russia or London and even consultants will feel the burn.
By Jossey PLLC
Equity Crowdfunding and the JOBS Act
President Obama signed the Jumpstart Our Business Startups (JOBS) Act in 2012 after receiving overwhelming bipartisan support. The equity crowdfunding law helps startups and smaller businesses raise capital through innovative rules and regulatory rollback. The SEC began implementing the law in 2013, finalizing the last title in 2016.
This memo focuses on three important changes the JOBS Act made to securities law: Reg A+, Reg D 506(c), and Reg CF. It explains how each has helped businesses capitalize along with changes the US Treasury suggests to increase their value and use. Finally, this memo explains how JOSSEY PLLC helps businesses with each regulation.
Reg A+
Two-tiered crowdfunding mechanism that also serves as a public-offering onramp for smaller issuers
Tier I: Issuers can raise up to $20 million from accredited and nonaccredited investors. Issuers have relatively small upfront accounting burdens during qualification but are subject to a state-level "coordinated review process"
Tier II: Issuers can raise up to $50 million from accredited and nonacredited investors. Issuers face higher upfront accounting burdens but raises are preempted from state-level qualification (but not notice or fees)
Issuers can "test the waters" to gauge interest without incurring substantial accounting or legal fees
Financial instruments are unrestricted (freely tradable) although issuers may choose to impose contractual transfer restrictions and state-level ambiguity exists
Reg A+ So Far
In the year after implementation (November 2016), 147 companies filed Regulation A+ offerings seeking $2.6 billion in financing. Of these, the SEC qualified approximately 81 offerings totaling $1.5 billion, 60% were Tier II.
The average size of the Reg A+ offerings was around $18 million, with most issuers having previously engaged in private offerings. Despite the increase from previous Reg A rules, Reg A+ issuers sought significantly lower capital amounts than issuers using other exemptions, such as Reg D.
Nonetheless, the Treasury Department recently stated, "Regulation A+ has enabled more companies to take advantage of the 'mini IPO' process than under the previously existing Regulation A registration exemption for small offerings. A Tier II offering may be less costly than an IPO, particularly for companies seeking relatively smaller amounts of capital."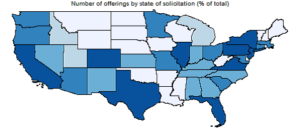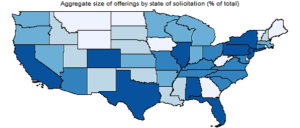 Reg D 506(c)
Amended Reg D 506 into 'b' and 'c.' Allows general solicitation for Reg D offerings for accredited investors only
Financial instruments are "restricted," investors must generally hold them for one year
Issuer must take "reasonable steps" to verify investor status as accredited
Exempts from broker-dealer registration websites displaying Reg D offerings if profits derive from co-investment with accredited investors
Notice filing with SEC and states, offers take form of private-placement memorandums
Reg D 506(c) so far
General solicitation has had a positive yet tiny effect on the private placement market. According to SEC data, for the approximately three-year period through the end of 2016, issuers raised $107.7 billion in debt and equity offerings under Rule 506(c); during the same period Reg D 506(b) issuers raised $2.2 trillion. Thus, Rule 506(c) offerings amount to only 3% of capital raised under Rule 506.
The availability of online marketplaces has had a positive effect: during the past three years, 16 online marketplaces have raised nearly $1.5 billion in over 6,000 private offerings for accredited investors.
Reg CF:
Issuers can raise up to $1.07M from accredited and nonaccredited investors over a 12-month period and can set a minimum and maximum range
Financial instruments are "restricted," investors must generally hold them for one year
Investors are subject to limits based on income and net worth
Issuers sell financial instruments over a FINRA-approved portal (website)
Issuers must track financial instruments and file a year-end report with the SEC
Reg CF so far
In the 12-month period following effectiveness (May 2017), 335 companies filed Reg CF offerings with the SEC and there were 26 portals registered with FINRA. Of the filed crowdfunding offerings, 43% were funded, 30% of campaigns ended unsuccessfully, and the others are still ongoing. Total capital committed was in excess of $40 million. On average, each funded offering raised $282,000 and included participation from 312 investors.
Businesses from a variety of sectors have utilized Reg CF with food and beverage, entertainment, sports, and transportation leading the way: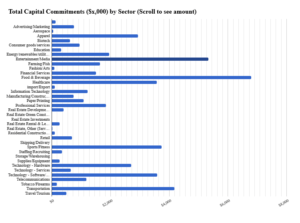 Source: Crowdfund Capital Advisors
Certain portals have separated themselves but it is very fluid and some outperform depending on the type of business.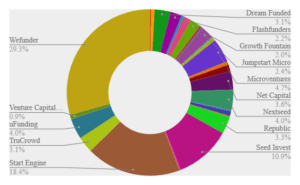 Source: Crowdfund Capital Advisors
Future Fixes
In October 2017, the U.S. Treasury recommended changes for each regulation to increase use and value. Congress should consider these changes in Spring 2018.
Reg A+
Expand Reg A eligibility to include Exchange Act reporting companies. This would provide already public companies with a lower-cost means of raising additional capital and potentially increase awareness and interest in Reg A offerings by market participants.
Encourage state securities regulators to promptly update their regulations to exempt secondary trading of Tier 2 securities or, alternatively, have the SEC use its authority to preempt state registration requirements.
Increase Tier II limit to $75 million.
Reg D 506(c)
Encourage SEC, FINRA, and the states to propose a new regulatory structure for finders and other intermediaries in capital-forming transactions, "broker-dealer lite."
Amend the accredited investor definition to expand the eligible pool of sophisticated investors. The definition could be broadened to include any investor who is advised on the merits of making a Regulation D investment by a fiduciary, such as an SEC- or state-registered investment adviser.
Review the Securities Act and the Investment Company Act provisions that restrict unaccredited investors from investing in a private fund containing Rule 506 offerings.
Reg CF
Allow single-purpose crowdfunding vehicles advised by a registered investment adviser, which may mitigate issuers' concerns about having an unwieldy number of shareholders and tripping SEC registration thresholds.
Waive investment limits for accredited investors as defined by Regulation D.
Change limits for nonaccredited based on the greater of annual income or net worth for the 5% and 10% tests, rather than the lesser.
Increase the limit on how much can be raised over a 12-month period from $1 million to $5 million.
What Equity Crowdfunding can do for your business
Besides capital to help your business grow, equity crowdfunding provides other benefits unique to this model.
Broaden your investor base: Unlike other funding models, equity crowdfunding can diversify your investor base from both a financial and geographic standpoint. Issuers can accept investors from anywhere in the US, giving your business a potential foothold in all 50 states.
Turn your customers into marketers: Equity Crowdfunding allows your customers to become investors in your business and see their investment grow as your business grows. This provides free marketing for your business with every new investor.
Incentivize your investors: Equity Crowdfunding allows you to reward investors with benefits thematic to your business. Depending on the product, this could include the product itself, 'founder' status on your website, access to events, or anything else that may induce investment.
Prove value to institutional investors: A successful equity crowdfund raise can show larger, institutional investors your business is ready for big money. Many larger investors are now requiring "social proof" of a company's business model. A successful raise shows larger investors value and momentum. It can also provide your business "bridge money" while larger investors evaluate your model.
How JOSSEY PLLC can help capitalize your business
Any successful equity crowdfund has three components: Legal, Accounting, and Marketing. A successful raise will require upfront fees and sometimes be subject to post-raise fees and ongoing SEC compliance.
Pre-Sale:
Handle all disclosures and regulatory compliance with the SEC. This includes SEC Forms and qualification processes depending on the regulation
Research the best vehicle for your business and product, make recommendations based on the best fit to maximize your raise
Recommend a particular financial instrument and tailor the contract to fit your needs
Review contracts, negotiate with vendors, recommend accountants and marketers
Live Selling:
Free advertising and profile on thecrowdfundinglawyers.com (thousands of unique visitors/month)
On call for any legal, regulatory, or compliance question you have; usually get back with an answer in less than 24 hours.
Post Raise (additional monthly fee):
Act as general counsel for your business. Answer any legal, regulatory, or compliance question that may arise. Review contracts, negotiate with vendors, and give general advice on employment and other business issues.
Track financial instrument changes in ownership throughout the year as required by certain SEC regulations.
Handle legal review of SEC compliance reports as required by certain regulations.
Disclaimer
This document is for informational purposes only. It does not represent a contract, offer, or any legal obligation on the part of JOSSEY PLLC. Many factors go into a successful raise including appeal of the product, market for the product, quality of marketing, operating history of the company, experience of management, and ability to self-generate crowd investors. Legal and regulatory compliance is only one part. Investing in small companies and startups carries lots of risk, there is no guarantee any issuer will have a successful raise.
For further information and a free consultation, please contact:
JOSSEY PLLC
(202) 779-5768
thecrowdfundinglawyers.com
Always hip with the times, the SEC set loose its own hurricane, Icarus (ICO for short) this summer. Instead of dowsing everyone with rain, Icarus threatens to burn those who get too close to crypto gold.
Icarus has panicked refugee blockchain companies as they scurry for shelter from Icarus's gaze. Although forecasters had predicted the storm for months, would-be ICOs reeled at the inferno, at least temporarily.
The SEC conceived Icarus in a summer report on the now-infamous DAO disaster. DAO was a tokenized universe allowing crowd investors to participate, direct, and profit from decentralized company projects. Hackers cracked the code and ruined the fun. A year later, the SEC arrived and claimed DAO tokens were securities subject to registration. This meant the ICO market, topping $2 billion this year alone is on ice.
Some blockchain companies are now sheltering under the SEC's umbrella. Filecoin a red hot ICO producing upwards of $200 million has filed two Reg D registrations with the commission; one for the presale to venture capitalists and the second for the crowdsale using a "SAFT" based on the SAFE popular with Reg CF.
Others have chosen to ignore the warnings and try to weather the storm. BitBounce's Credo has plowed ahead with ICO plans sans SEC registration claiming Credo's token don't meet Howey-test markers. If wrong it could endure years of SEC haggling before final resolution. The SEC has already begun to crack down on other ICO-related concerns including First Bitcoin CapitalCorp., CIAO Group, Strategic Global, and Sunshine Capital. 
For those wishing to avoid any future SEC-induced storms, three possibilities emerge:
Reg D: Perhaps the easiest because of the small regulatory burden and lack of limits, Reg D requires no upfront SEC compliance. Companies only notify the agency after the raise. Drawbacks include a verification process for accredited investors and a lack of liquidity, as investors must hold the securities for 90 days.
Reg CF: As currently configured, Reg CF is not ICO friendly because of its $1.07M one-year limit. But companies may stack Reg CF with Reg D to capture unaccredited investors. Reg CFers, however, must hold the securities even longer, one year, unless sold to accredited investors among other exceptions.
Reg A+: This may be the most interesting. The "mini-IPO" option requires more upfront costs as the SEC must pre-qualify the offering and limits exist based on investor income. But once live the ceiling is $50M and even better instruments are instantly tradeable making the secondary market most like the wild-West ICO of yore (this summer).
The SEC is still sorting the ICO market and asking the regulated community for input. But the commission should forecast calm seas and a light regulatory burden if the US is to remain competitive in this emerging securities market.
Russia-based platforms are developing that could gobble significant ICO infrastructure and innovation.  For instance, Russian platform Waves recently announced users can deposit US dollars for token backed 100% by dollar reserves for its ICO offerings. It also partnered with Deloitte CIS for ICO and customized blockchain solutions.
The SEC will decide whether US-based blockchain companies and investors are in for clear sailing or in the eye of the storm.
By Jossey PLLC